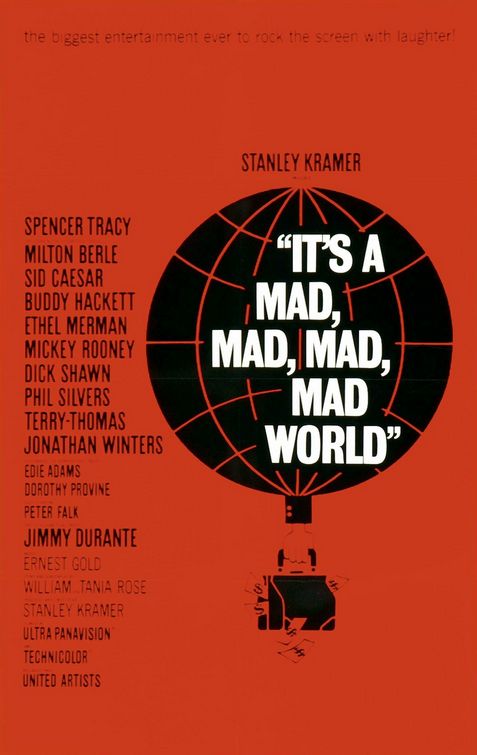 "It's A Mad, Mad, Mad, Mad, World" is a 1963 Ensemble Comedy Epic directed by Stanley Kramer ("Judgment at Nuremberg", "The Defiant Ones", "Guess Who's Coming to Dinner"). It won an Academy Award for Best Sound Editing. It also gained nominations for Cinematography, Film Editing, Sound Recording, Music Score, & Song. Finally, it received nominations at the Golden Globes for Best Comedy Picture & Best Actor (For Johnathan Winters).
The films stars Spencer Tracy ("Boys Town") as Captain T. G. Culpepper, Milton Berle ("The Milton Berle Show") as J. Russell Finch, Sid Caesar ("Sid Caesar Invites You") as Melville Crump, Edie Adams ("The Apartment") as Monica Crump, Ethel Merman ("There's No Business Like Show Business") as Mrs. Marcus, Jonathan Winters ("The Loved One") as Lennie Pike, Mickey Rooney ("Bill" & Various Voice Acting) as Dingy Bell, Buddy Hackett ("The Music Man", the guy who sang "
Shipoopi
") as Benjy Benjamin, Phil Silvers ("The Phil Silvers Show") as Otto Meyer, Dorothy Provine ("That Darn Cat!") as Emmeline Marcus-Finch, Dick Shawn ("The Producers") as Sylvester Marcus, & Terry-Thomas ("How Sweet It Is!") as Lt. Col. J. Algernon Hawthorne
It also guest stars Jim Backus as Tyler Fitzgerald, William Demarest as Aloysius, Jimmy Durante as "Smiler" Grogan, Peter Falk as cab driver, Eddie 'Rochester' Anderson as cab driver, Paul Ford as Col. Wilberforce, & Barrie Chase as Sylvester Marcus' girlfriend
Finally it has a big list of cameos including Jerry Lewis, Jack Benny, Buster Keaton, The 3 Stooges, Don Knotts, & a whole bunch more.
The film is about a man who died in a car crash, who gives his final words to a group of people about how he hid $350,000 (About $2.5 Million in today's money) under a Big W in Santa Rosita. The group then decide to go after the money, working together or not.
The movie is about the pendulum comedy of life and how sometimes we just have to laugh at it. And what better way to do it by having just about every comedian of the time be in the movie.
The film was an attempt to have a unique movie that people who go see in the theater due to the booming advent of television. It's literally a "Let's just throw everything out there and hope it sticks", and you know what? It does stick.
The film is hilarious but takes about a half hour to get going as by that point everyone is raging on the road. Jonathan Winters is adorably unlucky, everything seems to go wrong for the guy and he puts on a face like he was hurt emotionally (It's the puppy dog eyes effect). Ethel Merman is quite, QUITE, the annoying antagonist. I don't rage much, but she got to me almost the same as the "Sonic the Hedgehog (2006)" programmers did to make me rage. Dick Shawn is just...odd, really odd, and I saw him in "The Producers" dressed up as Hitler, now that's saying something. Everyone does a wonderful job of making quite the Epic Comedy.
The film had many notables about it; it was one of the first films shot with "Ultra Panavision 70" Cameras ("Ben-Hur" was filmed the same way), most of the actors surprisingly did their own stunts, Jerry Lewis lost $500 in a Craps game during filming, before cuts the film was over 5 hours long, and it originally had a fifth "Mad" in the title that was removed before release.
The film had a modern Spiritual Sequel in 2001's "Rat Race" with an All B-List Comedy Cast.
"It's A Mad, Mad, Mad, Mad, World" is a fun movie that take a while to start but is satisfying at the end, one to watch.
Flickchart Rankings
Worldwide: 1,705
Tack Angel: 179