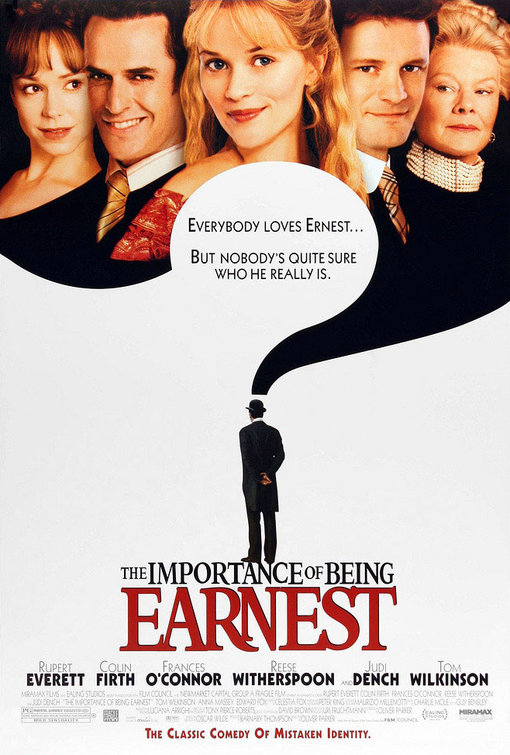 "The Importance of Being Earnest" is a 2002 "Comedy of Manners" Film directed by Oliver Parker ("Othello", "Fade to Black", "Dorian Gray"). It Won the 2003 Italian National Syndicate of Film Journalists' Silver Ribbon award for Best Costume Design, and was nominated for a Teen Choice Award for Choice Actress - Comedy (Reese Witherspoon).
It stars Rupert Everett ("My Best Friend's Wedding", "Shakespeare in Love", "Shrek" Series) as Algernon Moncrieff, Colin Firth ("Pride and Prejudice" TV Miniseries, "The English Patient", "Mamma Mia!") as Jack Worthing/Ernest, Frances O'Connor ("Mansfield Park", "A.I. Artificial Intelligence", "Windtalkers") as Gwendolen Fairfax, Reese Witherspoon ("Election", "Legally Blonde" Series, "Walk the Line") as Cecily Cardew, & Judi Dench ("Mrs. Brown", Pierce Brosnan & Daniel Craig Era "007" Films, "Pride & Prejudice") as Lady Bracknell
It's supporting cast includes Tom Wilkinson as Dr Chasuble, Anna Massey as Miss Prism, Edward Fox as Lane, & Patrick Godfrey as Merriman
The story is about two men in Victorian England scheming their ways into the life of luxary, even if unknown to each other. Their fates are intertwined though as when both claim to be the same person eventually reveals a deep secret about one of them.
The film glorifies lying and greed in a very pompous "Of Course" type of attitude. It's quaint, but fluff. An example being one of the characters writing in a diary of their life but exaggerating it to an extreme where it's a fictional novel, blaming it on that they have to have something interesting to read later.
All the acting is fine, and actually well done. Everyone puts on a stellar performance. The setting is picturesque and the music sets the theme of the genre "comedy of manners". The story is just...I guess the right word would be "appalling"
"The Importance of Being Earnest" is based on the 1895 play of the same name written by Oscar Wilde ("The Picture of Dorian Gray", "A Woman of No Importance", "An Ideal Husband") and had 83 Performances (Which is really good). The play also caused him to be imprisoned after denying The Marquess of Queensberry entrance to the play after being tipped off that they were going to throw vegetables at him. There was also another film adaptation of the play in 1952 directed by Anthony Asquith.
The film's story is not that great, but the acting is the treat in this movie. Watch it if you've liked the cast's previous & current work.
Flickchart Rankings
Worldwide: 2,898
Tack Angel: 337